During the festive conclusion on the 13th of May, Green Deal Green Roofs presented their results to Delta Commissioner Peter Glas. The forty participating authorities, companies and knowledge organizations celebrated the successes of four years of collaboration. With their ambition for more and better green and blue roofs they listed the measurable effects, mapped out innovations, and wrote the Guide Nature Roofs. They also devoted themselves to financial incentives such as mortgage interest deduction and a more sustainable tax system. NextGreen , together with Stroom en Onderstroom, has guided this collaboration ever since the feasibility phase in 2013.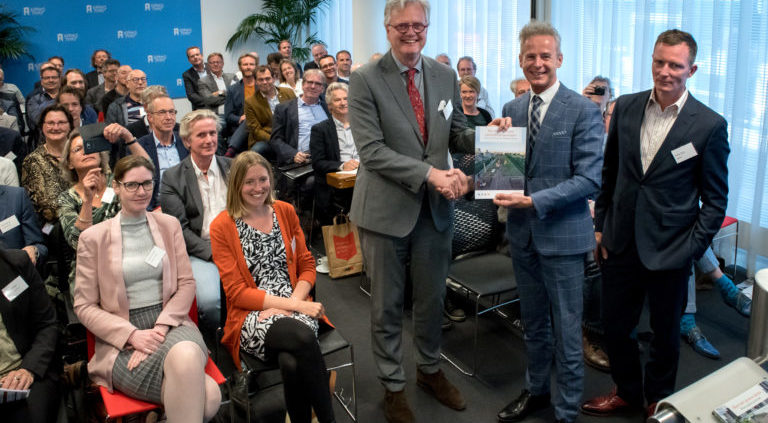 Presenting of the Legacy document at Nieuwspoort The Hague with, from left to right, Peter Glas (Delta Commissioner), Egbert Roozen (chairman Green Deal Green Roofs and general manager of the trade organization VHG) and Kasper Spaan (secretary Green Deal Green Roofs and advisor Waternet).
During the meeting at Nieuwspoort Suzanne Kröger, member of the Dutch Lower House, explained her motivation for the motion on green roofs: "The motion on green roofs has been passed with wide support throughout the Lower House. The perception of 'small green' in the city is crucial and I hope that with this motion we win over as many municipalities as possible to make work of green policy in the cities. I'm looking forward to finding out about the recommendations from Green Deal Green Roofs."
After short presentations of partners on developments and results, Green Deal chairman Egbert Roozen and secretary Kasper Spaan presented the overview of highlights and products to the Delta Commissioner. "The days of decorative greenery are over", said Egbert Roozen, to which Kasper Spaan added: "our ambition is to make the enriched roof the New Standard".
The message the partners wanted to send the Delta Commissioner with this presentation is that together they want to make a next step to embed roof solutions in the urban development, tenders, building process, and the present built environment. So that (nature) inclusive building contributes to a more climate proof and healthy city.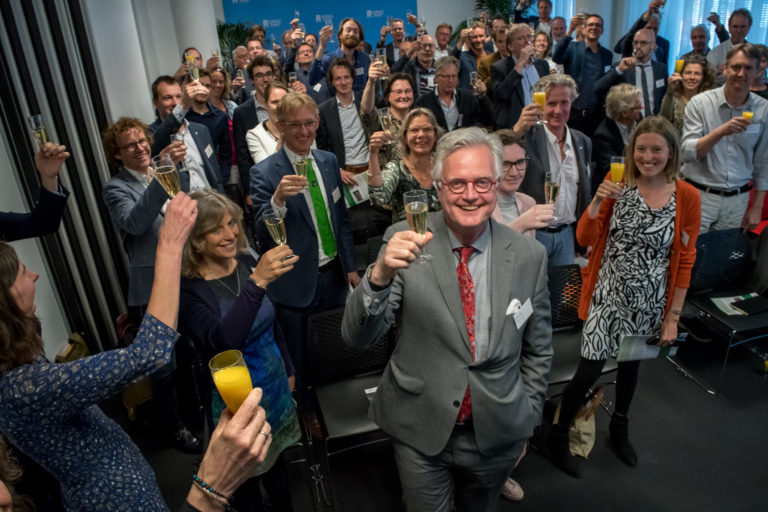 Toasting together on a future collaboration within the National Roofs Programme.
Delta Commissioner Peter Glas responded enthusiastically: "Climate adaptive building must become the new standard. A lot has still to be done to reach this. You've taken an important step with the results of the Green Deal Green Roofs. The way you've together made the next step and put it on the map in the form of the National Roofs Programme contributes to 'the city as a sponge'. The National Roofs Programme connects the quantity tasks (the triplet retaining, containing and drainage of rain water) with quality and biodiversity in the city. This way we can – together – keep the city livable."
https://nextgreen.nl/wp-content/uploads/2017/05/nextgreen-logo-02.png
0
0
Vera
https://nextgreen.nl/wp-content/uploads/2017/05/nextgreen-logo-02.png
Vera
2019-05-21 12:14:02
2020-03-27 11:09:29
From deal to program