EU CoP Finance@Biodiversity (2017 – )
 
The European Commission started the Community of Practice Finance@Biodiversity to integrate biodiversity, the basis of all life, into investment decisions of financial institutions. Throughout the CoP several participants will share their experiences on their activities and investment strategies regarding ecosystems and biodiversity issues. As well as developments around, the EU CoP F@B builds upon experiences from the previous Dutch CoP Financial Institutions & Natural Capital which was also facilitated by NextGreen.
Members
Actiam, ASN Bank, AXA Investment Management, CDC Biodiversité, Degroof Petercam, Ebanka, EIB, GLS Bank, Finance in Motion, FMO, ING Belgium, Mirova en Piraeus Bank. Carbon Disclosure Standards Board, Ministry of Economic Affairs, Natural Capital Coalition, Natural Capital Finance Alliance, UNEP FI, VBDO.
Aim
To support the transition towards a sustainable financial sector by:
Sharing experiences and promoting best practices;
Deepening in three working groups: Biodiversity Accounting, Positive Biodiversity Impact and Ambition & Responsibility
Connecting to other developments and initiatives regarding green finance
Role and activities NextGreen
Supporting EU Platform Business@Biodiversity | Leading workstream Finance | Facilitating CoP F@B | Guiding working group
Together with ICF International
 
Results and more…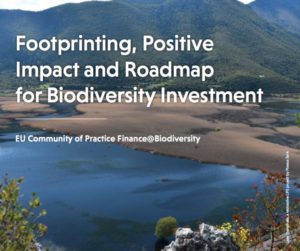 Mission statement and summaries of meetings are available via webpage Workstream Finance of the EU B@B Platform